Dear-Office Politics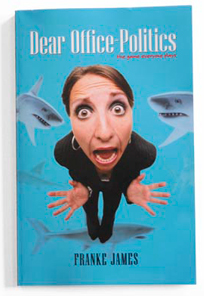 We have some pretty good relationships in the office where I work, but nowhere in the working world is free from the quirks of office politics.
I didn't realize that one of my Twitter friends (@frankejames) is an author who has written a book about office politics. The book is in the form of a game. From the website, it's a...
dilemma-based social game that teaches you how to play (and laugh at) office politics.

Dear Office-Politics lets YOU be an Office Politics Adviser and offer your best, sage advice. And then it turns the tables, and puts you into the role of Advice-seeker!
Sounds like it could be fun. The dilemmas in the book are taken from the website Office-Politics; people submit their questions in search of advice.
I'm intrigued.
I learned of the book when Ms. James tweeted that someone had purloined a couple of signed copies of the book when they were on their way to the recipients. To quote her "who steals an ethics book?"
Posted by James at June 23, 2009 12:47 PM